Cap O'Rushes
A Folkloric and Literature Resource
for Teachers and Librarians
Flannelboard Storytelling
Introduction and Background
With or without visual props storytelling is an ancient and rewarding art. Flannelboard storytelling probably dates from the 19th centruy and is often associated with Sunday School classes. In fact I still recall the intense pleasure of watching my Sunday school teacher smooth on the felt or flannel pieces while she told a Bible story. When I decided to try telling stories, I went back to that memory for inspiration and the courage to begin. I discovered that even in this age of television and computer games there is still magic in the old flannelboard and a live storyteller.
Since the stories best suited for telling are those of the oral tradition, it seemed desirable to present children a visual image with as much integrity as the story itself. The picture should match the words, in the cultural and historical background and style of the story.

As European fairy tales come from the middle ages the figures that are presented here are based on medieval tapestries and prints. All colors may be used, but softer tones are more authentic. The flannel board may be plain white or ivory, but is most attractive framed in columns and an arch to indicate a stage or architectural frame. Tapestries often have architectural frames which can be copied and simplified to decorate the board.
Choosing the story
Select a story with few characters. Rumplestilskin is good one to start with since its repetetive pattern makes it easy to learn and there are only five main characters and a few props necessary. The scenes or characters to be placed on the board show the structure of the story and can be seen as follows:
Scene 1. Father tries to impress King: Add Miller's Daughter at end.
Scene 2. King and Daughter in dungeon, props: straw, gold, spinning wheel, dungeon suggested by large door.
Scene 3. Rumplestilskin and Daughter. Scenes 2 and 3 repeat 2 more times.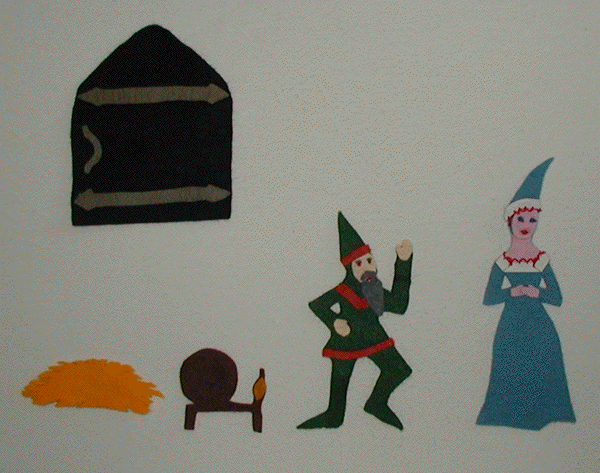 Scene 4. Daughter, now Queen in her chambers with Baby. Rumplestilskin. props: couch.
Scene 5. Queen, messenger. Scenes 4 and 5 repeat 2 more times.
Learn the story by reading it over several times and telling it to yourself. You don't have to use the exact words of the text, but memorizing some graceful phrases will improve your performance. A small card with the names needed in the last scenes can be tucked in the tray or box that you keep on your lap for figures not needed on the board and can help you remember tricky details. While this may seem like a lot of work for one presentation, you will use it for many years, and I expect that your children will ask for repeat performances. If you are willing to let kids handle your felt figures you may have the whole class retelling the story to each other. However the felt figures will not last as long if you let the children handle them.
Some other figures:
Castle, tower, etc.
Sources for stories: Complete Grimm's Fairy Tales (German); Joseph Jacobs English Fairy Tales, Perrault's French Fairy Tales.
Some basic hints for making:
The flannel board:
An artist's canvas board which comes in a variety of suitable sizes, 24 x 30, for example, can be purchased at an art supply store. Foam core or tri-wall (3 layer thick corregated cardboard) would also do. Stretch flannel or felt or any other napped or fuzzy fabric over the board and staple to the back. Use staples short enough so that they don't come through the front or seek out those that do and hammer them flat. If you use a velvet type fabric, make sure that the nap runs up the board or you will find the figures sliding off! Use Elmer's glue to attach border decoration and finish the raw edges in back with wide tape.
The figures:
Supplies to have on hand: felt squares in many colors (available in fabric stores), scraps of rick rack, braid, trims, beads, etc., Elmer's glue, chalk, good scissors, tweezers, steam iron.
Patterns: Three pages of patterns for Rumplestilskin. These patterns should be printed out so that the page is a standard 8.5 x11 inches. If your printer gives a different size I recommend using a copier to get the size right. Figures are about 8 inches tall.
Make copies of patterns to be used. It is easier to cut a pattern apart and make partial patterns for face, etc. First use entire pattern in a single color of felt, the major color for the figure's clothing.
Pin the paper pattern to the felt and mark around it with chalk. Remove pattern. Cut out the figure by cutting off all the chalk line. Alternatively, pin the pattern, roughly cut out, to the felt and cut both paper and felt together, as one would cutting out a sewing pattern. This will give you a sturdy base on which to glue the face and other details.
Then cut the pattern into the necessary pieces for face, neck, etc. Cut these out of appropriate colors. Assemble all the pieces before glueing and glue all at once. Use tweezers to place the eyes, mouth and any small trim.
Put the figure aside and let it dry. Do not press pieces together as you would with paper. Let the glue do its work. When the figure is dry you can trim any stray ends and tidy up the edges. Some felt is very thin and parts of the figure may need to be reinforced. Glue a strip to the back of the figure so that you can pick it up and place it on the board without its flopping over.
A note on facial expressions. All of the features on the figures are created with triangles in various sizes. Experiment by moving the eyes and mouth around on the face to create a suitable expression for your character. Eyes with the triangle point at the top are cheerful, reversed look evil. A mouth with the point at the bottom is pleasant, with the point at the top, petulant, etc. Noses are mostly left to the imagination.
Store your figures in a box that is lined with felt. This will keep them from moving around and keep them flat. You can use the top of the box, also lined in felt, as a tray to hold the figures needed for a particular story. A card with the name of the story and figures and props needed for each story should also go in the box. Figures that get a bit rumpled can be pressed with a steam iron and repaired with a bit of Elmer's glue.
If you have questions or comments about any of the material offered here, please email Carole at carole at slattery dot com. .